OLIGO on Wikipedia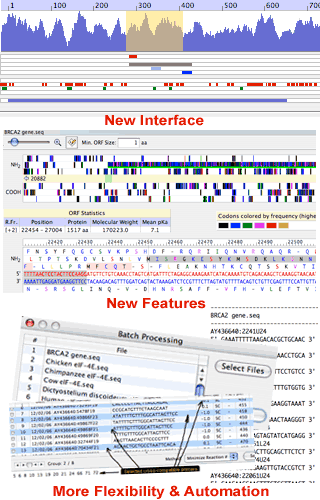 OLIGO (©1989-2010) Primer Analysis Software is used to design and analyze sequencing and PCR primers, synthetic genes, and various types of probes including siRNA, molecular beacons, TaqMan probes and nested PCR primer sets. It has been written in the 1980's and modified several times. The current version is the most comprehensive application on the market in its category. Besides multiplexing and other complex oligonucleotide analysis, the software finds open reading frames and creates restriction enzyme maps even from protein sequences. Batch processing allows for minimum effort and large data compilation.
The original Internet page and the software with documentation have been written in English language. Technical help (no license expiration) is only in English as well. Click on the links at the top of this page to enter the English version site.
Keywords: Oligo primer design and PCR software, DNA and RNA analysis, comprehensive primer and probe analysis, multiplexing, real time PCR search, oligonucleotide secondary structure data, open reading frames and restriction enzyme maps, priming efficiency, consensus primers.
Description: OLIGO performs a range of functions for researchers in PCR and related technologies, enables to design consensus, multiplex and degenerate primers. Reverse translation, restriction enzyme and open reading frames analysis, oligonucleotide database, primer secondary structure, LCR, siRNA, molecular beacons and nested primers design, real time PCR, batch file processing.